Suicide – Can Someone who Commits Suicide still have Eternal Life?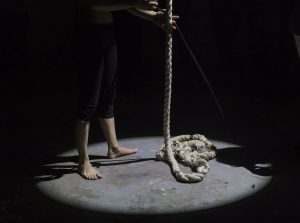 The question we want to address is this:
Can a person go to heaven or have eternal life if they commit suicide?
It depends on if the person is in Christ or not; that is, if he or she is saved. Those who are in covenant with the LORD via the gospel have been born of the spiritual "seed" – sperma – of Christ (1 John 3:9 & 1 Peter 1:23) and thus already have eternal life in their spirit (John 3:36 & 1 John 5:13). They thus go to be with the Lord when they die (Philippians 1:23-24, 2 Corinthians 5:8 & Revelation 7:9-17) and are guaranteed an awesome bodily resurrection (1 Corinthians 15:42-44) and eternal life in the new Heavens and new Earth (2 Peter 3:13).
However, all believers will have to give an account of their lives at the Judgment Seat of Christ for what they did while in the body, whether good or bad:
For we [believers] must all appear before the judgment seat of Christ, that each one may receive what is due him for the things done while in the body, whether good or bad. 11 Since, then, we know what it is to fear the Lord, we try to persuade men.

2 Corinthians 5:10-11
Sins that have been confessed and repented of on Earth will have already been forgiven – dismissed – by the Lord because such offenses are under the blood (1 John 1:8-9), but believers will be accountable to un-confessed sins of commission and sins of omission (James 4:17). If a believer commits suicide it would be his (or her) last act on this Earth and so he'd be accountable to this sin at the Judgment Seat of Christ. While he'll be penalized in some manner he wouldn't lose his eternal life. Consider what Paul taught by the Holy Spirit:
No, in all these things we are more than conquerors through him who loved us. 38For I am convinced that neither death nor life, neither angels nor demons, neither the present nor the future, nor any powers, 39neither height nor depth, nor anything else in all creation, will be able to separate us from the love of God that is in Christ Jesus our Lord.

Romans 8:37-39
Let's keep in mind that anyone who takes his or her own life was not acting out of a sound mind, but was obviously suffering mental illness to some degree, listening to the lies of the enemy (see this article to get my drift). Let's also keep in mind that the LORD is absolutely righteous, compassionate and just (Psalm 97:2, 98:9 & 103:8). In short, he's the perfect person to judge people and a zillion times superior to even the best human judge on Earth.
Something else to keep in mind is that God judges people based on the light they have and their level of spiritual maturity (John 9:41, John 15:22-24 & James 4:17). Thus a knowledgeable, mature believer would face a stricter judgment at Christ's Judgment Seat than someone more ignorant and immature (James 3:1).
Samson Committed Suicide while fulfilling His Commission
It's interesting to note that Samson committed suicide after he was captured & imprisoned by the Philistines and his eyes were gouged out. The Philistines had a great celebration involving thousands of people at their temple and had blind Samson brought out for entertainment. Notice what Samson does with his last breath:
Then Samson prayed to the Lord, "Sovereign Lord, remember me. Please, God, strengthen me just once more, and let me with one blow get revenge on the Philistines for my two eyes." 29Then Samson reached toward the two central pillars on which the temple stood. Bracing himself against them, his right hand on the one and his left hand on the other, 30Samson said, "Let me die with the Philistines!" Then he pushed with all his might, and down came the temple on the rulers and all the people in it. Thus he killed many more when he died than while he lived.

Judges 16:28-30
While Samson was fulfilling his God-given commission to deliver the Israelites from the Philistines with this dying act (Judges 13:5), it was still suicide. Nevertheless, Samson is noted in the Hall of Faith chapter (Hebrews 11:32-34) and it is assumed that he will be blessed with the resurrection unto eternal life (Daniel 12:2-3) although, like Christians, he will be judged "for the things done while in the body, whether good or bad" (Matthew 19:28-29).
'What about Unbelievers?'
Unbelievers are not in Christ and therefore are not in covenant with God.
This includes former believers who have "fallen away" (Hebrews 6:4-9). People who fall away from Christ are not believers who struggle with a serious sin problem — repeatedly falling into a certain sin and repenting, craving freedom from it (1 John 1:8-9); nor does it refer to believers who stumble into sin, like we've all done, and sometimes do. Anyone who says they "never sin" is self-deceived, I don't care how mature they are (1 John 1:8-9). Those who practice sin as a lifestyle, however, are neither struggling with sin nor stumbling; they've given their hearts over to the flesh and no longer have any concern about repenting. They've become calloused towards God's will and the things of the Spirit and are in danger of falling away from Christ altogether. It's the difference between struggling or stumbling and outright rebellion. See this article for balanced scriptural details.
Unbelievers will be resurrected at the end of the age and judged. Anyone whose name is not found written in the book of life will be discarded in the lake of fire, which is "the second death" :
Then I saw a great white throne and him who was seated on it. The earth and the heavens fled from his presence, and there was no place for them. 12And I saw the dead, great and small, standing before the throne, and books were opened. Another book was opened, which is the book of life. The dead were judged according to what they had done as recorded in the books. 13The sea gave up the dead that were in it, and death and Hades gave up the dead that were in them, and each person was judged according to what they had done. 14Then death and Hades were thrown into the lake of fire. The lake of fire is the second death. 15Anyone whose name was not found written in the book of life was thrown into the lake of fire.

Revelation 20:11-15
Suicide would be just one of all manner of sins for which these people will be judged. While theologians speculate as to whether all these people will suffer the "second death" or most of them or some of them (with Evangelicals usually leaning toward the former), we can all agree that the best option is to partake of the LORD's antidote for sin and its consequences:
For the wages of sin is death, but the gift of God is eternal life in Christ Jesus our Lord.

Romans 6:23

For God so loved the world that he gave his one and only Son, that whoever believes in him shall not perish but have eternal life.

John 3:16
Only a fool would opt for sin & death above faith-in-Christ & eternal life.
Amen.
comments powered by

Disqus