News

The SIX BASIC DOCTRINES of Christianity is Out!
Every believer needs to establish a sound spiritual foundation because it sets the groundwork for their entire walk with the LORD. Just as a good foundation is required for a sound building, so a proper spiritual foundation is vital for a victorious Christian life. Those who fail to lay a proper foundation are doomed to spiritual immaturity because they have nothing by which to judge what is right or wrong, scriptural or unscriptural, wise or foolish. Simply put, a healthy biblical understructure eliminates feeble spirituality.
Believers who neglect to form a wise foundation can shipwreck their faith altogether, as Paul put it in 1 Timothy 1:19, and find themselves back in the world—in spiritual darkness and separate from God. That's why this book exists. It'll help believers lay a quality understructure so that their faith isn't shipwrecked at some point down the road.
The Bible details the six basic doctrines of Christianity in Hebrews 6:1-2 where they are described as "elementary." This means "the initial (starting) point" in the Greek. In other words, these six doctrines come first and are therefore the chief teachings of Christianity. They're "basic" only in the sense that they're foundational and consequently have priority over other doctrines. They are the SIX CHIEF DOCTRINES of Christianity.
The print book is available here for only $6.78 (155 pages) and the Kindle eBook is available here for just 99 cents!
---

Condensed Versions

of both HELL KNOW and SHEOL KNOW are Now Available!
These are new versions with all the "fat" removed and freshly edited to boot, both 153 pages for only $6.72 each (or just 99 cents for the eBook version). They're geared for people who just want the main facts without the excessive details. They make perfect gifts.
You can order copies of the print version of HELL KNOW here and the eBook here.
SHEOL KNOW is available here and the eBook here.
---

Featured book:

THE

LAW and the Believer
Are New Covenant believers obligated to obey the Mosaic Law (the Torah) as some insist? Should we keep the Saturday Sabbath? Should we limit our diet to kosher foods? Should we observe the Israelite Holy-days, like Passover and the other feasts? Should we get circumcised?
The answer is an emphatic "No." The Scriptures clearly show that New Testament believers are NOT under the Law. The ceremonial and dietary laws have ceased because they were foreshadows pointing to the Reality, Jesus Christ. Ever since the Messiah came and fulfilled the Law, the Old Covenant has been obsolete.
"We have been released from the Law and serve in the new way of the Spirit, and not in the old way of the written code" (Romans 7:6). The only law believers are under is the law of Christ, which is the law of love, through which we automatically fulfill all of the moral Law.
Read this book and know your FREEDOM in Christ. You'll easily be able to counter modern-day Judaizers who preach a "different gospel," like those from the Hebrew Roots movement.
You can purchase print copies here for only $6.99 (150 pages) or get the Kindle eBook here for just 99 cents!
---

Important Request for Readers
If you've been blessed by any of Dirk's books, please consider writing a short review on Amazon, which should only take a few minutes of your time. This will help spread the freeing truths of God's Word!  
This link provides access to each of Dirk's books on Amazon. Please remember that there are two editions of each book — a print version and an eBook version. They're the same book and each of these pages will need your review posted separately (just cut-and-paste it from one to the other). Thank you!
---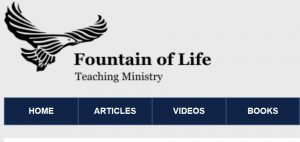 Our New Website
You might have noticed that we recently had a site facelift — enjoy the improvements! But don't hesitate to offer constructive criticism. And please let us know if you come across any broken links. Thanks!
---
The official slogan of Fountain of Life
Know ye the official slogan of Fountain of Life:
FREEDOM! LIFE! JOY! POWER!
Why this slogan? Because it's catchy but, more importantly, because it's thoroughly biblical and reflects what we're all about, as noted by these powerful passages:
FREEDOM: John 8:31-32 & Galatians 5:1
LIFE: John 10:10
JOY: Psalm 16:11
POWER: 2 Timothy 1:6-7
For details, see this article.
---
Insightful Articles!
We regularly edit our  articles and add new ones.  Some are short & sweet while others are longer — some are even book length — but they're all interesting, insightful and Bible-based, not to mention non-sectarian in approach. Be sure to check 'em out. Christ said: "People do not live by bread alone, but by every word that comes from the mouth of God" (Matthew 4:4 NLT).
Also, don't hesitate to write if you have any questions/comments/rebukes. God Bless You!