Ganges: A Filthy, Foul and "Holy" River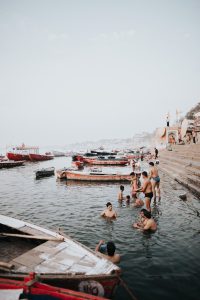 David Servant of Heaven's Family was ministering in Varanasi, India, in early October, 2013. This city is considered the holiest city of India with some 23,000 temples. Many Hindus believe that dying in Varanasi brings salvation via the release of one's soul from the laborious cycle of reincarnation. The bodies of those who die in Varanasi are typically cremated on the banks of the Ganges River, which flows through the city. Hindus believe that bathing in the Ganges cleanses them of transgressions.
If the family members of those cremated depart before the body is consumed the fire will likely be doused and the remains cast into the river to conserve fuel. In addition, there are numerous Hindus who are not authorized to be cremated so their bodies are tied to rocks and cast into the river.  Furthermore, the city dumps 50 million gallons of sewage into the river every day. This is in addition to the loads of human & industrial waste poured into the river from the many other cities on its banks.   Every year millions of Hindus drink a few drops of water of the heavily poluted river and take some back to their relatives who couldn't make the journey. Is it any wonder that gall bladder cancer rates of those who live along the river are the 2nd highest in the world?
David had some time to kill on October 8th so he hired a boat and a guide to watch the morning activities, including the bathing rituals, the cremations and the many tourists. The low point came when they came across the shrouded head & shoulders of a corpse in the river. David expressed: "The thought of bathing in a river that was filled with sunken corpses was not very attractive to me, but thousands of people were doing just that — as a mode of worship — as we drifted past them on our way downstream." He reflected: "In light of this, I can't help but wonder how humanists can decry Christian evangelism that 'threatens to destroy native cultures.' God forbid that some missionary might persuade people to stop drinking sewage."
comments powered by

Disqus