Trinity — Father/Son/Holy Spirit — Yes or No?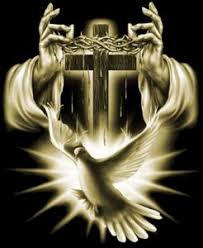 "The Trinity" is a reference to God as Father/Son/Holy Spirit but, interestingly, the word "Trinity" does not appear in the Bible, which explains why I rarely — if ever — use the term in my teachings. After all, if the LORD doesn't use the term, why should I?
So is the doctrine of the Trinity true? And, if so, what is the biblical evidence to support it?
Let's start with the very beginning of the Bible where the Creator refers to Himself in the plural:
Then God said, "Let us make mankind in our image, in our likeness…"

Genesis 1:26

And the Lord God said, "The man has now become like one of us, knowing good and evil. He must not be allowed to reach out his hand and take also from the tree of life and eat, and live forever." 

Genesis 3:22
The LORD's plurality doesn't indicate the false notion of polytheism, however, because the Bible emphasizes that God is one (Deuteronomy 6:4 & Isaiah 45:5,6,18). Rather, it's an indication of one God in three persons: Father, Son and Holy Spirit. Here are several plain passages to illustrate this:
Then Jesus came to them and said, "All authority in heaven and on earth has been given to me. 19 Therefore go and make disciples of all nations, baptizing them in the name of the Father and of the Son and of the Holy Spirit, 20 and teaching them to obey everything I have commanded you."

Matthew 28:18-20

May the grace of the Lord Jesus Christ, and the love of God, and the fellowship of the Holy Spirit be with you all.

2 Corinthians 13:14

For through him [Christ] we both have access to the Father by one Spirit.

Ephesians 2:18

As soon as Jesus was baptized, he went up out of the water. At that moment heaven was opened, and he saw the Spirit of God descending like a dove and alighting on him. 17 And a voice from heaven said, "This is my Son, whom I love; with him I am well pleased."

Matthew 3:16-17

There is one body and one Spirit, just as you were called to one hope when you were called; 5 one Lord, one faith, one baptism; 6 one God and Father of all, who is over all and through all and in all.

Ephesians 4:4-6
Here is a simple diagram that might help you with the concept of God as Father/Son/Holy Spirit: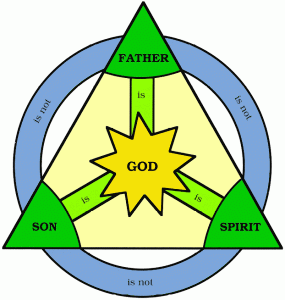 The second image shows how Christ — the Son — is also human (or became human).
It might help you to grasp the concept of the Trinity by considering that human beings are triune in nature — spirit, mind & flesh.
Anyway, these clear passages and numerous others prove the notion of God as Father, Son and Holy Spirit. For additional evidence see this article by S. Michael Houdmann.
---
Related Topics:
THE Angel of the LORD — Mighty Angel or Pre-Incarnate Christ?
Does God have a Feminine side?
Human Nature — Spirit, Mind & Body
comments powered by

Disqus